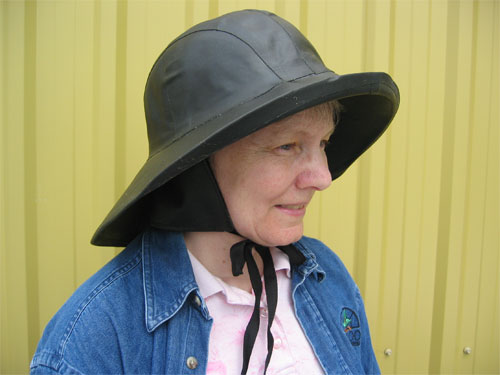 #1525:
Sou'Wester hats were discontinued in 1999 when Kaufman Canada closed its doors.
The famous hats are now being made again due to popular demand.
We have pulled out the old patterns and molds and ex Kaufman employees are now making these unique hats by hand again.
Sou'Wester hats are functional, comfortable and durable. The high brim keeps water off your forehead and provides maximum visibility. A stiff construction, particularly on the rim, prevents the hat from losing its shape or flopping in high winds. The interior and ear flaps are lined with warm comfortable fleece.
Only available in black with a black fleece lining.
Sizes: Small, Medium, Large and Extra Large.
Measure the circumference around you head just above your eyebrows.
Let us know this number in inches or centimeters.
Prices: $55.00 Canadian each plus shipping and handling.
(postal code required to determine correct shipping fee)
Sou'Wester hats are currently not stocked by any of our distributors and can only be purchased directly from our factory. Please call us at (519) 885 6080 or toll free at (866) 885 6080 in Canada to order. We can also be reached by email at "paul@zephron.ca"